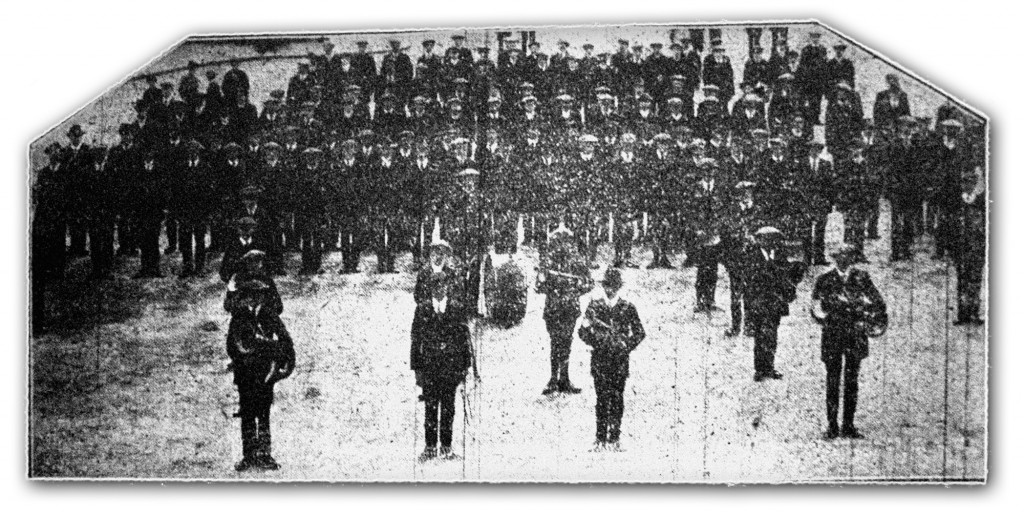 This is a photograph of the Irish National Volunteers in Westport in May 1914, photographed with the Westport Town Brass band. This group probable included volunteers from the surrounding areas of Aughagower and Cusglough.
(From the web site: https://en.wikipedia.org/wiki/Irish_Volunteers)
The Irish Volunteers (Irish: Óglaigh na hÉireann) was a military organisation established in 1913 by Irish nationalists. It was ostensibly formed in response to the formation of the Ulster Volunteers in 1912, and its declared primary aim was "to secure and maintain the rights and liberties common to the whole people of Ireland". The Volunteers included members of the Gaelic League, Ancient Order of Hibernians and Sinn Féin, and, secretly, the IRB. Increasing rapidly to a strength of nearly 200,000 by mid-1914, it split in September of that year over John Redmond's commitment to the British War effort, with the smaller group retaining the name of "Irish Volunteers". The Irish Volunteers fought for Irish independence in the Easter Rising of 1916, alongside the Irish Citizen Army, Cumann na mBan, and Fianna Éireann. From 1919 it took part in the Irish War of Independence, becoming known as the Irish Republican Army.